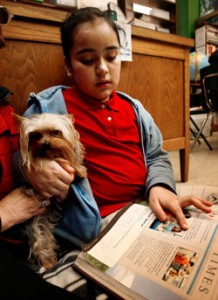 Photos Copyright 2009, OPUBCO Communications Group
A New Leash on Life, Inc. trains volunteers and their pets to become certified therapy dog teams. Teams serve as ambassadors of love and good cheer during their visits to nursing homes, assisted living centers, schools, and hospitals in Oklahoma.
The simple touch of a soft hand or a wagging tail can bring smiles, comfort, and sweet memories to people whose world has become very small and often lonely.
The mere presence of a therapy dog in a reading circle creates calm and lessens anxiety, allowing the reader to read aloud to an attentive listener.
Therapy dogs are great assistants in the rehabilitation setting. They provide motivation to adults and children who seem to forget the difficulty of their task when they interact with a dog.
How to Become a Therapy Dog Team
Dogs must first have basic obedience skills and enjoy being petted by strangers in social situations. After an evaluation, volunteers and their dogs can become eligible for our therapy dog training course, which culminates in certification.
Contact us today if you and your dog would like to become A New Leash on Life therapy dog team.
For more information regarding Therapy Dogs, contact us at therapy@newleashinc.org.
Donate Online

 Making a donation through our secure server is fast and easy. We use a non-profit service to process our credit card transactions. 

GIVEDIRECT is the name that will appear on your credit card statement, not "A New Leash on Life, Inc". Using a third party keeps our costs low and allows us to spend time and money on our programs. You may give a one-time gift, or set up a recurring donation each month or each quarter.