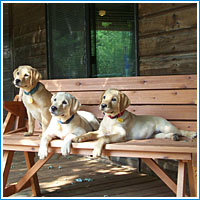 Puppy raisers are an extremely important part of our program. We rely on volunteer puppy raisers here in Oklahoma to help our puppies develop skills that are critical for becoming quality service dogs. In return, they enjoy the experience of having these delightful creatures in their lives and of contributing in a special way to our mission of helping people with disabilities live more independent, quality lives.
If you are interested in becoming a puppy raiser, here is what is expected:
           Attend puppy raiser classes on a regular basis.
           Follow A New Leash on Life training techniques and recommendations.
           Communicate about the puppy's good and bad behaviors with the trainers.
           Provide the puppy with a safe, consistent, and enriched socialization environment.
           Get to know other puppy raisers, trainers, and staff. As a team we become better trainers, stronger community educators, and more effective advocates.
           Be positive and engaging to the public. Learn about our program and what service dogs have to offer people with a variety of abilities. You and your puppy are our traveling billboards.
We will help you to acquire the skills necessary to be an exceptional puppy raiser.  In addition, veterinary expenses will be paid by A New Leash on Life, Inc.
Donate Online

 Making a donation through our secure server is fast and easy. We use a non-profit service to process our credit card transactions. 

GIVEDIRECT is the name that will appear on your credit card statement, not "A New Leash on Life, Inc". Using a third party keeps our costs low and allows us to spend time and money on our programs. You may give a one-time gift, or set up a recurring donation each month or each quarter.