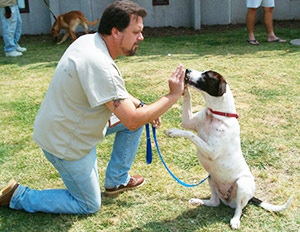 The Pen Pals Prison Program teaches inmates at CCA-Davis Correctional Facility in Holdenville, Oklahoma to train shelter dogs into well-mannered companion dogs, who are then adopted by people in the community. Research shows the inmates benefit as much as the dogs and their new owners. The inmates become more patient, tolerant, learn a skill and the value of community service. Their increased confidence, empathy and ability to share emotions with the dogs open new ways of thinking and relating to others, making a significant difference in their lives and the lives of the families, staff and other inmates.
A New Leash on Life trainers go to the correctional facility every week to conduct dog-training classes for inmates and their dogs. Each dog lives in the cell with two inmates who share training responsibilities for the 10-week program. They are responsible for house training, obedience training and correcting any behavioral problems like barking or jumping. They make a well mannered, more adoptable dog out of one that might have ended up euthanized.
New Leash pays for all the expenses of the program, including food, veterinary, professional trainers, training treats and supplies.
Every ten weeks during graduation, the inmate handlers, sometimes tearfully, hand the leash of their dog over to its new owner. Then they take the leash of another dog from the shelter to begin, again.
For more information regarding the Pen Pals Prison Program, contact us at info@newleashinc.org.
Donate Online

Making a donation through our secure server is fast and easy. We use a nonprofit service to process our credit card transactions. GIVEDIRECT is the name that will appear on your credit card statement, not "A New Lease On Life, Inc". Using a third party keeps our costs low and allows us to spend time and money on our programs. You may give a one-time gift, or set up a re-occurring donation each month or each quarter.